Luminance has fast-established itself as the leading artificial intelligence platform for the legal profession. Founded in 2015 by pioneers at the University of Cambridge, Luminance's revolutionary core technology, 'LITE' (Legal Inference Transformation Engine), leverages a unique blend of supervised and unsupervised machine learning together with pattern-learning algorithms to read and analyse legal documents in speeds and in volumes that far exceed human capacity. The inherent flexibility of the platform means it can be applied to a wide array of legal use cases, including insurance underwriting, due diligence, contract negotiation, regulatory compliance reviews, property portfolio analysis and eDiscovery.
In just over three years, Luminance has enhanced the lives of lawyers in over 200 law firms and organisations in 47 countries in the world, including 17 of the 'Global Top 100' and all of the 'Big Four' accounting firms. The company currently has offices in London, Cambridge, New York, Chicago and Singapore.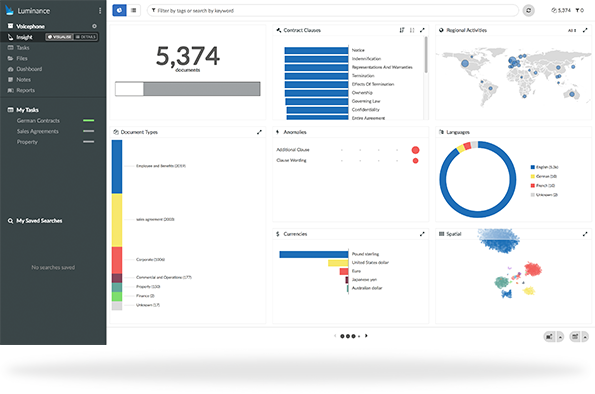 Machine Learning
Luminance brings true machine learning to the legal profession. This is all made possible by Luminance's core intelligence, 'LITE' (Legal Inference Transformation Engine), which leverages both supervised and unsupervised machine learning to read and analyse legal language at both document and clause-level.
Market-leading
Luminance is the leading language and jurisdiction-agnostic tool on the market. Its highly sophisticated, unique and proprietary machine learning technology is flexible enough to adapt to any lawyers' workflow – no matter which office they are based in. In fact, Luminance is now working in over 80 languages with 40% of our customers working across non-English documentation.
No barriers to use
By adopting a pattern-recognition approach, LITE needs no training or configuration, allowing lawyers to begin their analysis immediately after document upload is completed.
Discover hidden insights
Luminance's pioneering machine learning can proactively uncover insights lawyers might have missed or not set out to look for in their review. This means that lawyers will always be on the forefront of the negotiation.
Increases efficiency
Our customers consistently report on achieving time-savings of at least 50% on day one of their review. This only increases as the user continues to interact with the platform and LITE's supervised machine learning comes into play, learning from these interactions to become increasingly tailored to the firm's nuances and specialities.
Total control
Using Luminance, the lawyer should never relinquish control to a machine. Rather, it is the human that is steering the review and drawing the all-important decisions- not the machine.